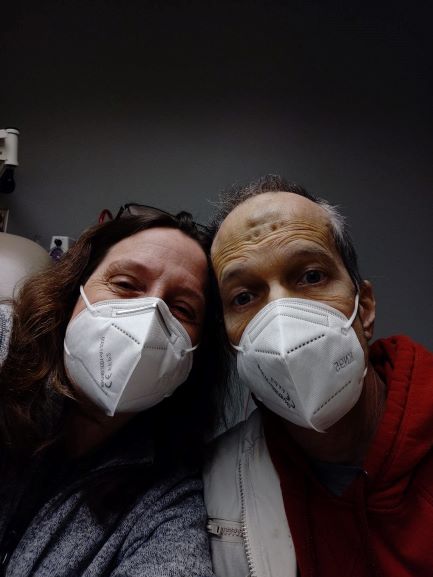 We are both in shock. The PET, MRI, and CT scans over the past few days all show the same thing: "no cancer present." I had to hear the doctor say it directly, clearly. "So are you saying that Mark is cancer free?" My voice had notched up half an octave and sounded loud in my head. "Yes," the doctor said, "Mark is cancer free." All the metaphors poured into my head at once. The mountain was climbed. The load was lifted. The race was run. And then quickly it all flipped. We climbed the mountain. We carried the load. We ran the race. And then I immediately grasped that this was true for us together, and for each of us as individuals, and for the whole community that has sustained us through these terrible, long months. Mark worked hard; I worked hard; many people worked hard in so many different ways to help us make it through.
The weight has been lifted. We can rest. I rolled Mark out of the doctor's office, into a bright grey spring day. We quietly rode home, lost in our own thoughts. It needed to sink in. The journey — this part of the journey — was done.
Mark has a long way to recover still. Surprisingly, he's hovering at only 129 lbs. He's keeping the feeding tube for now. He needs to get stronger. He's still tippy; the nurse practitioner tells us that that may or may not resolve as his body is still recovering from the radiation. Some side effects are immediate, some can come even a year or two after radiation. We have to wait and see. In six weeks, Mark will have a check up. In three months, he'll have another set of scans. He will continue to be watched closely. But for now, we can breathe.
Last night, we sat on the couch, our new Pandemic Puppy using our legs as a jungle gym. We just kept looking at each other. We raised a glass of champagne. It still didn't feel real.
"You don't have cancer," I said, testing the words out yet again. "You're a survivor." Pause.
"Yep," Mark said. Pause.
"What's next?" I asked. Pause.
"Now," Mark said slowly, "the rest of the story."
Indeed.