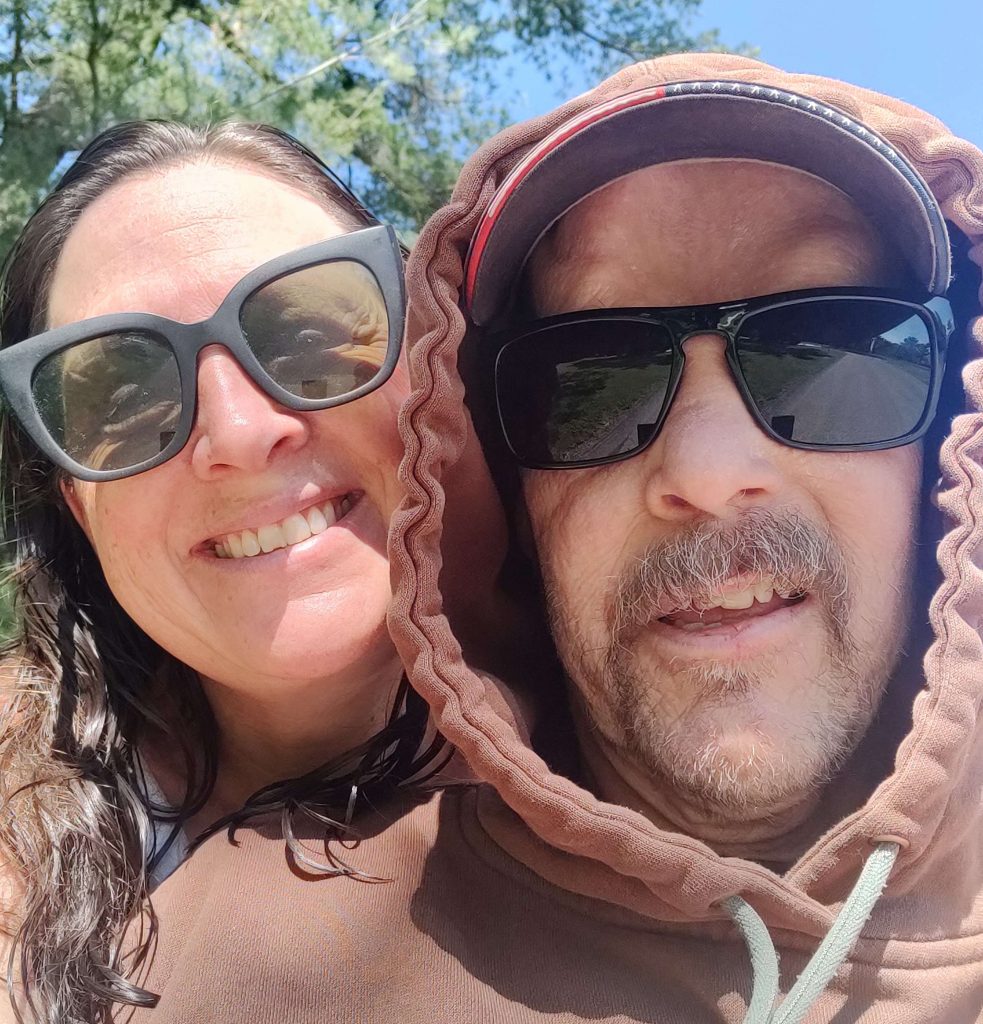 I'm lying next to Mark in bed. It's the middle of a hot summer afternoon. Mark's shirt is off, and I'm considering his stubborn body, the body that has taken so much and keeps going. There are various portals, now sealed. The small puncture in his abdomen where the feeding tube brought him back from the grip of death in the winter of 2020. The scar on his throat where a trach brought oxygen to his lungs and removed pressure from his skull graft in the summer of 2020. There is the scar draped across his head, ear to ear; the line they drew once and then used as their guide for multiple returns into his skull and brain. The scars on his leg and scalp from drains. The 18-inch scar on his leg from the harvested quad muscle in the spring of 2021. 
"You didn't really say too much about your feelings," Kim told me after reading my last post. "But that makes sense," she quickly added, "you had a lot of information to convey."
She's right. I'm not living in my emotional life right now. Sometimes I can, and at those times I do. Sometimes my emotions are a safe space, a gentle summer air current keeping a butterfly aloft. Sometimes they are as rough as the velcro strips holding Mark's leg brace firmly in place. Any tug could cause a dislodging that feels like it would be a catastrophe.
My Mark is gone again, and as usual it happened suddenly, without warning. Now he lives in a state that is seemingly a combination of brain damage and drug haze, and the line between the two is dashed and wonky. A weaving of brain tissue, electricity and chemicals that feels more soup than solid.
My Mark is gone again, and it happened in a flash.
I feel alone.
I have decisions to make, the worst kind of decisions, while taking care of a Mark that can turn on a dime, wake up on a lark, forget that he uses a wheelchair again, and head down the steps. "Where are you going?" I ask. He doesn't know. He can't answer. He doesn't answer.
I have no idea how to make these decisions. They are: keep Mark on the medications and therefore keep the seizures as controlled as possible; take him off the sledgehammer medications so that he's more alert in his life; consider surgery to treat the epilepsy.
When I do the math, which I am doing in an endless mental loop everyday, I always come up with this: No Good Decision.
Mark does not have a terminal diagnosis. He is alive and living with a complement of disorders, diseases, syndromes.
"Do you know what 'chronic small vessel ischemic disease' is?" my friend Tory asked. I had sent Tory screenshots of a scan report from after Mark's seizure and fall two weeks ago. I did know, but only because I had looked it up. Has any doctor told me Mark had this chronic disease? Nope. Not one, ever. Did I dwell on this for a second? Nope. I moved on. What did I need to understand about it? It's a precursor to dementia and strokes. Info received; move on, Diane, move on.
As I said, I'm not living in my emotions. Which is clearly a short-term strategy that will not hold up long-term. There's a lot to feel about the current reality. Is the Mark I've had for the last nine months, quite mentally recovered, present, funny, connected, kind, loving, gone for good this time? Are there ways to uncover the layers of medication fog safely, to see what Mark is under there? Who can help me answer those questions? Who can help me figure it out?
See, I've gone from emotion to labor, once again. Task, task, task.
I'm sad. I can tell you that. I'm tired, at three years into this. "I wish so very much for a dollop of joy to land in your lap," Kim texted me yesterday. Very unlikely, I replied. I can't even envision what form joy could take. What would joy even look like right now?
Luckily the work is ample. I simply navigate through my days moving in tandem with Mark's whims. He'll suddenly put on his baseball cap and shoes. "What's next?" I'll ask. He may or may not answer me, and then I just follow him wherever he rolls.
Someday I may be the driver in my own life again. I sure hope so. For now, I navigate the ribboned stream of leading and following, not quite sure where we are going or who is actually in charge. The line, the path, extends to the horizon.