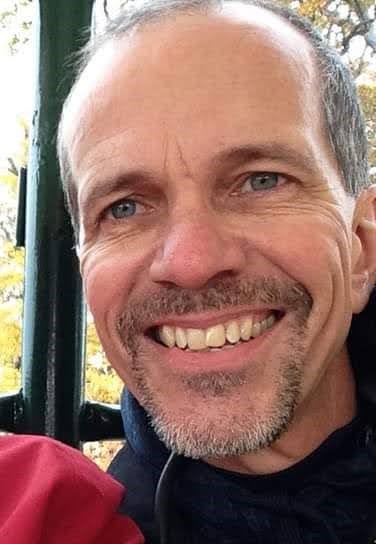 My loving, kind, quiet, funny, positive, gentle, confident, and smart husband, Mark Joseph Hrehocik, crossed over the threshold of this world to the next on August 25, 2022, at age 59 from dementia caused by sinonasal undifferentiated carcinoma and treatment. Born in and faithful to his Mon Valley roots, Mark was the epitomized Pittsburgher, holding only two jobs in his life: working a game booth at Kennywood Amusement Park and enjoying a 36-year career as a mechanical engineer at Bechtel Bettis Atomic Power Laboratory. A proud Slovak and the youngest of seven raised in Glassport, PA, Mark believed in both the simple joys of life and in working hard while pacing oneself. Mark loved mentoring younger engineers, spending time with his three children (Michael, Ben, and Matthew) and two step children (Anya and Alma), a solid round of golf, a lunchtime run on a hot day, and a poker game with friends. He could identify which play a Shakespeare quote was from and sing every lyric to songs from Bob Dylan to Bob Marley to REO Speedwagon. His two favorite books were Les Miserables and Ball Four.
Predeceased by his first wife Kristen, stillborn daughter Kayleigh, parents Michael and Pauline (Terek) Hrehocik, and sister Tish, Mark knew sorrow. He drew from this deep well, practicing compassion for others, a seize-the-day zeal for life, and the wisdom of knowing that sitting outside enjoying a sunset has just as much value as accomplishing any task. We learned from each other the depths of love in the hardest of times. We were grateful for the good days and found joy tucked into the folds of the bad days. We felt fortunate for the time we had together.
Mark and I knew each other through nearly equal years of sickness and health. Mark was always insistent that he was going to live forever. He would have given anything for one more day with Michael, Ben, and Matthew, and to get that—just like their mom did—Mark gave everything. I wish he had been right, but Lord, did he fight a good fight.
My Mark now sails through time and space, launched into the unknown and unknowable, a brilliant soul and spirit untethered from the confines of our small and beautiful world. In addition to me (his wife, Diane Reckless), Mark is survived by many who loved him: his three sons, Michael, Ben, and Matthew; two step-children Anya and Alma; four sisters, Paula Roche (John, dec.), Teena Culbert (Roy), Jane Clampitt (Henry), and Marcia Uziel (Don, dec.); a brother, Michael Hrehocik (Vickie); nieces, nephews, friends, and a huge and immensely generous community that rallied to support our family for the past three years.
Please join us for a celebration of Mark's life at East Liberty Presbyterian Church, 116 S. Highland Avenue, Pittsburgh, on Saturday, September 10, at 10:30am. Reception to follow in the church social hall. Please feel free to send all the flowers; Mark loved them. Memorial donations in Mark's memory may be made to the Light of Life Rescue Mission, 913 Western Avenue, Pittsburgh, PA 15233. Please visit the funeral home website (www.dalessandroltd.com) to leave a personal message of condolence for Mark's family.