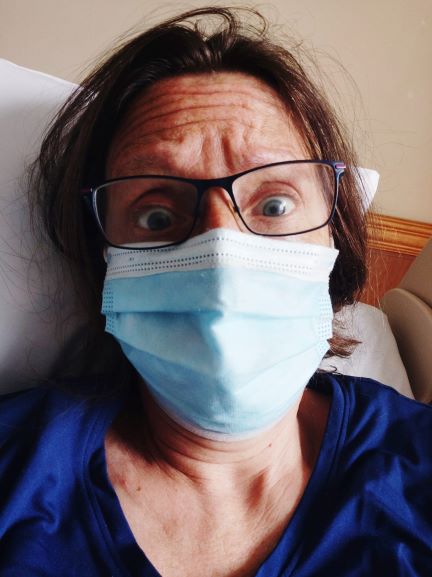 Today. The occupational therapist trained me in wheelchair transfers from bed to chair, wheelchair to toilet, wheelchair to shower chair. Tomorrow, the physical therapist will teach me how to help Mark with steps. The patient care technician, changing Mark's bed linens, said, "It's exciting that he's going home so soon." "Well, to him," I replied. My actually mood? This photo.
I'm deep into purchasing solutions. Makes me feel like I'm doing something. More grab bars. A shower chair with a back and arm rails. Shower wands for the two possible bathroom showers he might use. An alarmed mat to put next to his side of the bed so I can sleep without the terror of not waking up when he tries to get onto the bedside commode. A bed railing to help him get up safely. A bell he can ring if he needs something.
Someone just offered me a portable ramp, so Mark will be able to get out onto the patio and sit in the sun. Someone offered to help teach Matthew to drive, which I sadly must pass on to another adult as I can not be sure I could do it anymore.
I am many phone calls into looking for caregivers. I've tried to create an elevator pitch out of a story that is a long and tragic novel. It's hard to summarize. I've struck out with agencies but have found a couple women who may be able to come in next week for parts of a few days. I've talked to the boys and told them how their dad he will look. How he can and cannot move. The new level of supervision he will need. That I will train them in how to do this when it is inevitably their turn. That today he kept asking me where his keys were. "But how will I get the car out of the [hospital] garage?" He asked over and over, no matter how I responded. Listening, answering, redirection, distraction, diversion. The options available.
I am on high, high alert. Poised for the storm. Trying to prepare. Batten down the hatches. Prepare the fallout shelter. Breathe. Breathe. Breathe.